Law Firm Banking Solutions
Financial Counsel You Can Count On
Relationship banking is at the core of our commitment to attorneys and law firms. Our experienced, knowledgeable bankers help you maximize your operations and financing strategies with innovative banking products and services. From cash management, attorney trust accounts, and buyout loans to mergers and acquisitions, we're on your team.
Banking That Never Settles1
You benefit from our years of industry-specific experience supporting a wide range of law practices. Whether you concentrate on transactional work, litigation, intellectual property or any other specialty, we can recommend banking strategies and products to help you and your firm prosper.
Deposit and IOLTA accounts: We offer business checking and savings accounts and Interest on Lawyers' Trust Accounts (IOLTA), an interest-bearing account made specifically for attorneys with interest pooled to provide pro bono legal assistance funds.
Loans and financing: We meet financing needs based on your specialty areas and practice size, including lines of credit, real estate financing and partner buy-in or capital loans.
Settlement services: Rely on our years of specialized banking for law firms, claims administrators and related businesses managing class action, mass tort and bankruptcy settlements. We support all phases of the process from escrow through distribution with a single point of contact.
Treasury management2: Turn to us for advanced products and services to meet your entire range of money management needs, from comprehensive cash management and fraud protection to flexible and up-to-the-moment merchant services.
Business escrow services: Manage the operational and reputational risks associated with escrow arrangements through our accelerated onboarding process, accurate disbursements and online custom escrow portal called Bridge Bank Gateway.
Financing Solutions for Attorneys & Law Firms1
Let us focus on the business of banking while you focus on your clients. We offer deep experience with all types of practices and attorneys in small, mid-sized and large law firms. Find solutions for your firm and your clients' accounts with our:
Partner Buy-In or Acquisition Financing
SBA 504 and Commercial Real Estate Loans
About Us
Contact Us
Expert counsel is at the core of our commitment to specialized banking for attorneys and law firms. We bring you years of expertise in supporting the wide range of law practices – whether yours is a major, multi-disciplinary firm or a smaller, more focused enterprise.
Get In Touch
Bank of Nevada Headquarters
2700 West Sahara Avenue
Las Vegas, NV 89102
United States
See All Locations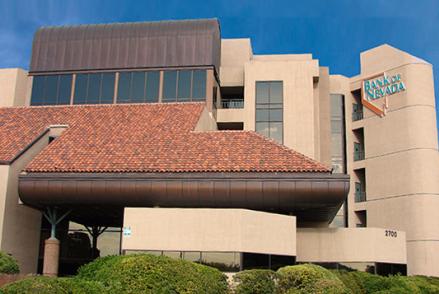 1. All offers of credit are subject to credit approval
2. Merchant Services are provided by Heartland® in agreement with Western Alliance Bank. Merchants on certain processing programs are not eligible for next-day funding; funding may be delayed by Heartland' Credit or Risk departments at any time. Heartland® is a federally registered service mark of Total System Services, Inc. EMV is a registered trademark or trademark of EMVCo LLC in the United States and other countries. All trademarks contained herein are the sole and exclusive property of their respective owners. Any such use of those marks without the express written permission of their owner is prohibited. Heartland Merchant Solutions is a registered ISO of Wells Fargo Bank, N.A., Concord, CA; Synovus Bank, Columbus, GA, First National Bank of Omaha, Omaha, NE; and Deutsche Bank, New York, NY for Visa and MasterCard transactions only. Heartland offers NFC enabled POS systems, but a POS upgrade is not necessary to enable merchant service payment processing.