Resort Financing & Banking
Lending Solutions for Vacation Landmarks
If you're a U.S.-based timeshare resort developer, Western Alliance Resort Finance can provide the financing you need to create a vacation landmark. With decades of experience working with business owners like you, we understand the timeshare resort industry's opportunities and challenges. Whether you're building a resort from the ground up, buying or expanding an existing resort or need additional liquidity, we can help.
Resort Lending & Banking Solutions1
Find a comprehensive slate of resort finance solutions and banking services, with an exclusive focus on banking for resort developers and owners of timeshare projects. Our team works with you to tailor banking solutions to meet your company's needs. You have access to our senior management team for meetings and site visits, and we deliver fast responses to loan requests.
Hypothecation & Other Timeshare Resort Loans1
Rely on our timeshare resort lending experts for resort financing facilities and banking tools to help you achieve your business goals. As one of only a few lenders in the resort industry that offers all loan types, we specialize in financing for land acquisitions, construction, inventory, hypothecation and more.
Construction Loans
Homeowners Association (HOA) Loans
Hypothecation Loans
Inventory Loans
Land Acquisition Loans
Purchase or Expansion Financing
Receivables Financing
Timeshare Resort Banking Experts
Resort Financing Solutions to Create Memorable Destinations
You'll find that our experienced bankers deliver creative, flexible banking solutions that suit the unique requirements of the timeshare resort industry. Our team's in-depth knowledge of the vacation ownership industry sets our bank apart. Our customer-focused approach means you work exclusively with an experienced relationship manager — a single point of contact — to support all your financing and banking needs.
About Us
Contact Us
Our skilled relationship bankers get to know you, your business and your customers to provide the resources you need for success. Take the next step — find out how we can make it easier for you to grow your timeshare resort business.
Get In Touch
Torrey Pines Bank Headquarters
12220 El Camino Real
Suite 200
San Diego, CA 92130
United States
See All Locations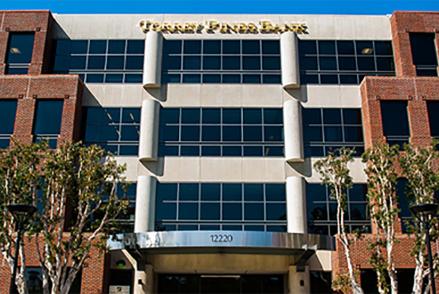 1. All offers of credit are subject to credit approval, satisfactory legal documentation, and regulatory compliance. Borrowers are responsible for any appraisal and environmental fees plus customary closing costs, including title, escrow, documentation fees and may be responsible for any bank fees including bridge loan, construction loan, and packaging fees.