SBA 504 Loan

SBA 7(a) Loan

SBA Express Loan

Who Qualifies
• For-profit business that do not exceed $15 million in tangible net worth
• Both the $15 million in tangible net worth and the average net income after Federal income taxes for two years may not exceed $5 million.
• For-profit business that meets SBA size standards
• Both the $15 million in tangible net worth and the average net income after Federal income taxes for two years may not exceed $5 million.
• Same as 7(a)
• Both the $15 million in tangible net worth and the average net income after Federal income taxes for two years may not exceed $5 million.
Funds Can Be Used For
• Commercial real estate purchases
• Building improvements
• Equipment purchases
• Ground up construction of new facilities
• Commercial real estate purchases
• Building improvements
• Equipment purchases
• Ground up construction of new facilities
• Long-term and short-term working capital needs
• Business acquisition
• Partner buyout
• Refinancing business debt
• Tenant improvements
• Same as 7(a)
• Revolving line of credit offered
Benefit to Borrowers
• Low down payment
• Fees can be financed
• Long-term financing
• Improved cash flow
• Fixed maturity
• No balloon payments
• Fast turnaround
• Streamlined process
• Easy-to-use line of credit
Maximum Loan Amount
• Bank Loan: $15,000,000
• SBA Loan: $5,000,000
• $5,000,000
• $1,000,000 until December 31, 2020
• $350,000 after December 31, 2020
Collateral
• Requires real estate and/or equipment being financed
• Life insurance for a portion of the SBA loan
• First position lien filing on all business assets
• First position deed of trust on real estate (when applicable)
• Deed of trust filing against personal real estate if there is a collateral shortfall
• First position lien filing on all business assets for loans $25,001 to $350,000
Maturity
• Equipment Purchases - up to 10 years
• Real Estate Purchases - up to 25 years
• Working Capital and Equipment Purchases up to 10 years
• Real Estate Purchases - up to 25 years
• Up to 7 years for revolving line of credit; otherwise, same as 7(a)
Interest Rate
• Bank Loan: Fixed and adjustable rate options available
• SBA Loan: Fixed rate for life of the loan
• Fixed rate for SBA loan established when the SBA funds the loan
• Declining prepayment fee for 1/2 of term for SBA Loan
• Fixed and adjustable rate options available with a maximum rate of Prime + 2.75% for most SBA 7(a) loans
• Loans: Prime + 3.00%*
About Us
Contact Us
We're ready to help you get more from your business banking relationship. Find out how we can add value to your enterprise with responsiveness, innovative solutions and bankers who enjoy helping you meet your goals.
Get In Touch
Western Alliance Bank Headquarters
1 East Washington Street
Suite 1400
Phoenix, AZ 85004
United States
See All Locations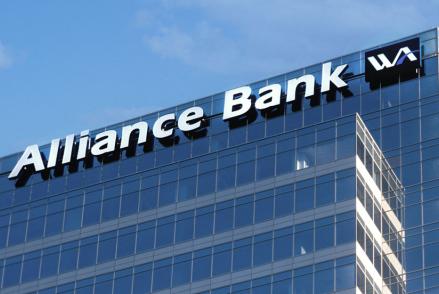 1. All offers of credit are subject to credit approval, satisfactory legal documentation, and regulatory compliance. Borrowers are responsible for any appraisal and environmental fees plus customary closing costs, including title, escrow, documentation fees and may be responsible for any bank fees including bridge loan, construction loan, and packaging fees.