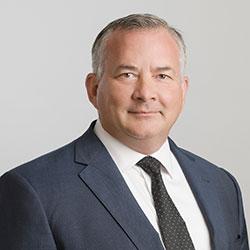 Tim R. Bruckner
Chief Credit Officer
Tim R. Bruckner Is Chief Credit Officer of Western Alliance Bancorporation.
As CCO, Mr. Bruckner is the senior executive of Western Alliance's credit administration department, with oversight of all the organization's credit and lending processes and functions. Prior to becoming CCO, Mr. Bruckner was divisional Chief Credit Officer of Alliance Bank of Arizona, with full credit oversight of the division's loan portfolio.
Mr. Bruckner performs a critical role in establishing and maintaining Western Alliance's credit risk architecture and strong loan portfolio performance, which support the bank's consistently strong performance.
Mr. Bruckner brings more than 30 years of credit and lending experience to his current role as CCO. Before joining Western Alliance, he held senior credit and business line positions with BMO Harris, and had served as director of credit administration with oversight of the special asset department for M&I Bank leading up to the merger with BMO. Mr. Bruckner's career also includes successful senior executive roles focused on equipment leasing and finance with Bank of America and GE Capital.
Mr. Bruckner is active in the community, serving as a member of the Native American Connections Board of Directors after serving on the executive committee as Chairman and Vice Chairman.
Mr. Bruckner holds an MBA with an emphasis in Finance from Creighton University.
About Us
Western Alliance Bank
With more than $70 billion in assets, Western Alliance Bancorporation is one of the country's top-performing banking companies. Its primary subsidiary, Western Alliance Bank, Member FDIC, offers a full spectrum of tailored commercial banking solutions and consumer products, all delivered with outstanding service by banking and mortgage experts who put customers first. Major accolades include being ranked as a top U.S. bank in 2023 by American Banker and Bank Director. Serving clients across the country wherever business happens, Western Alliance Bank operates individual, full-service banking and financial brands and has offices in key markets nationwide.