O'Cathain Group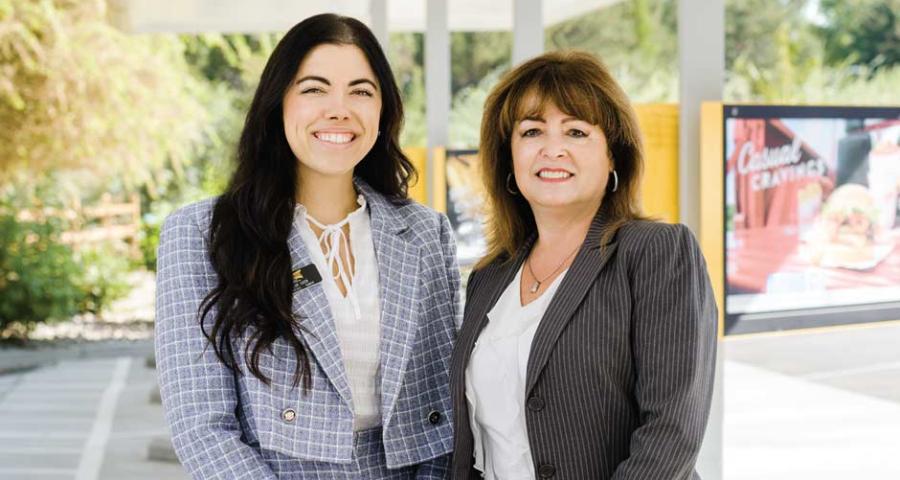 Not every company can claim a leadership team with two senior executives under age 23, but that was precisely the situation when a new era launched for the O'Cathain Group, a Reno-area restaurant company.
In August 2016, Taylor (age 22 at the time) and Ian (19) Cain were thrust into the C-suite when their father died unexpectedly. The two young adults, along with their then-15-year-old brother Quinn, had imagined joining the family business at some point, but they thought that day would be far in the future — with much more time to prepare.
Instead, they went to work under the steady hand of the longtime CFO and CPA for the O'Cathain Group, which was named for Cain family's original Irish surname. Taylor credits that team for guiding the ship as the young Cains took the reins.
"It's easy to gloss over all the work our team put in during that time. The general gets the accolades, but really it's the people in the trenches who make things happen," says Taylor. "Although my parents weren't there to teach us the ropes, they had such a good team around them, people who stayed and said, 'I believe in these children to take over a large company.'"
That team includes numerous people, including those working in Sonic stores, who have been with the company for 15 years or more — around the time a preschool-age Taylor began passing out ketchup and mints.
Now, Taylor serves as CEO and Ian as CFO, while Quinn also works in the business, but "we don't really have job titles. Ian and I are managing members of the group, but if we need it, I'm carhop that day," says Taylor. "We run our company so that if anybody at any level wants to bring something to me, they can — we have that kind of open work relationship."
The company is a respected and growing force in Northern Nevada, owning five Sonic locations and operating two Sola Salon Studios. It opened Reno's first Rusty Taco in fall 2022, with another location in the planning process, and has a sixth Sonic under construction in Fernley, Nevada.
First Independent Bank financed construction of the new Rusty Taco project as well as the company's sixth Sonic location. The bank also provides business accounts to O'Cathain Group, with a slate of Treasury Management products tailored to the company's needs. Equally important, First Independent's bankers have helped O'Cathain Group maximize efficiencies across its business operations.
"When we came to First Independent Bank from a large national bank, our team told us, 'The relationship with your banker can be a lot better than it is,' and they really took the transition on head-on," Taylor explains. "In every interaction with First Independent Bank, I learn something new. For instance, FIB helped us put into place Loomis safes, which made a huge difference in simplifying our operations so managers don't have to physically transport money."
Taylor continues, "There are a lot of positives about having a local bank. One of the biggest — no matter if you're selling burgers, making loans or running a doctor's office — is about the service you get." She adds, "I can hold my money anywhere. The difference is whether that bank provides a connection, trust and good people to have around. First Independent Bank does all that. They are very welcoming and very easy to get a hold of."
A proven commitment to clients and their success distinguishes Western Alliance Bank and its divisions, including First Independent Bank. Our bankers specialize in tailoring innovative solutions to meet each client's needs. To draw on the deep industry expertise and national resources of First Independent Bank, along with the superior personalized service that is a hallmark of the Western Alliance approach, contact a First Independent Bank relationship manager.