Tideline Partners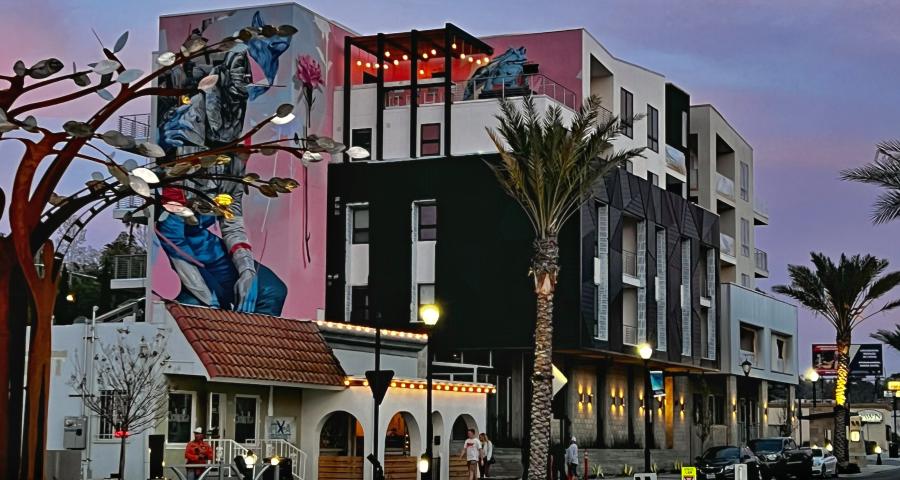 Supporting the Vision of Vista 
Lev Gershman is the founding and managing partner of Tideline Partners, a real estate investment management firm whose mission is to make places better – and that's exactly what they set out to do when they broke ground on the new Found Lofts project in Vista, California. 
"We care what we leave behind, the world we live in and the world our kids will live in. If we can solve to create economic value, cultivate community, and protect the environment, that's what we should always be striving to achieve," said Gershman. 
And achieve they did with the completion of Found Lofts. The anchor project for Vista's growing Arts & Culture District supports the vision for the neighborhood, delivers the area's first cost-effective micro-units and provides residents a quality home with access to ample EV and bike parking.
The project's intent to energize Vista's Arts & Culture District is proudly on display as Found Lofts features the tallest mural in North County, which was crafted by Joram Roukes, a muralist and visual artist from Amsterdam. The mural plays homage to local heritage by taking inspiration from stories of the Luiseño, an indigenous tribe of San Diego County. 
Roukes was the first participant in the building's artist-in-residence program, which will host an artist from outside of Vista two times per year in exchange for leaving something behind that will support the community vision. Gershman hopes that the program will attract more local and national artists to the region to engage with the local Vista arts community and share their work.
Beyond fulfilling its intent to make Vista better, one of the things Gershman is proud of is the incredible partnerships that brought this project to life. Gershman and his team fostered strong relationships with the City of Vista, which was a big undertaking between Tideline Partners and the staff, elected officials, and community members of Vista. He knew that he'd need the same level of trust when it came to a banking partner, which is why he turned to Torrey Pines Bank.
"I've had a longstanding relationship with [Torrey Pines Bank banker] Ben Price, who I greatly respect and trust, which was a great entry point into the conversation," said Gershman. He also sought out the opinions of collaborators on the project and had the opportunity to sit down with leadership face-to-face to get comfortable with the abilities of the team.
Torrey Pines Bank's expertise with developers and the open lines of communication that were established at the onset proved to be invaluable as the team navigated COVID-19, supply and labor challenges. 
"Torrey Pines Bank was invested in our success and understood what we needed to keep moving the Found Lofts project forward. Without having their investment in our success there is no way we would have been able to finish both on-time and on-budget," said Gershman
When asked if he had any advice for other developers looking for banking partners, Gershman said "when you need money, who are you going to call? Is it going to be a general number, or do you have a direct line to your banker? It's important to get a sense for who you are going to work with as it'll be a longstanding relationship for the duration of the project."
It's important to work with a business bank that has true expertise in your market and your industry. To learn more about Torrey Pines Bank and the expert solutions and services it provides to developers, please click here to contact one of our experienced bankers or call (858) 523-4600.