Medical Clients Offered 24/7 Banking Tools
Nevada businesses, large and small, have been faced with unprecedented changes this year. Since March of 2020, business owners and their employees have learned to do more with less to keep their businesses moving forward. 

Medical providers - and the industry as a whole - have not escaped these challenges. 

While Bank of Nevada's healthcare banking team has no control over reimbursement rates, our experienced representatives can offer medical clients banking and treasury management tools that bring new efficiencies to accounting and billing practices. That, in turn, will make your employees more productive. When utilized, these tools can eliminate daily deposit trips to the bank, create a paperless payment option for your customers, and allow your company to receive payments quickly.

Accounts Payable Automation

The automation of accounting and billing procedures is one way to utilize an employee's time more effectively while also speeding up invoice receipt, payment, and remittance delivery. Through accounts payable automation, often called AP automation, incoming invoices automatically trigger a general ledger code and are systematically routed for approval while expenses post automatically. The AP automation system also generates payment instructions and vendor remittance advice. Each vendor payment is drawn directly from your designated account for faster reconciliation of bank statements and general ledgers. For those businesses seeking a more earth-friendly paperless system, choosing accounts payable automation is a great solution.

"Accounts Payable Automation is a great solution to help medical office staff operate more efficiently," said Kimberly MacClafferty, vice president, business banking. "AP automation allows for the automatic processing of invoices, payments, and remittances. It can be a huge time-saver."

eZePay1

Companies utilizing eZePay make it simple for their customers to pay a bill online, which often means your company receives payment quickly. The eZePay system eliminates the need to process each check and then deposit them at the bank. Customers pay their bills through a "Pay Now" button placed on an existing company website. The benefit for consumers is their ability to view and pay their bills quickly from any device, including mobile, tablet, or desktop. There's no need to write a check, find a stamp, and put a payment in the mail. Consumers can choose to pay from a checking account, saving account, credit or debit card, as well as set up a customized payment plan. For business owners, eZePay reduces the delay in receiving payment and can eliminate the need to process checks. Best of all, the Bank of Nevada healthcare team can set up the eZePay system quickly, allowing you to start collecting payments electronically in as little as 30 days. 

"We understand many clients can experience a reduction in revenue each time medicare reimbursement changes in Nevada," said Walter Hashimoto, director, commercial banking. "We encourage clients to utilize products like eZePay, which accelerate payments and can reduce overhead costs by phasing out the time it takes staff to process and deposit checks."
 
Remote Deposits2

You've heard the phrase "Time is Money." With that in mind, many medical offices have eliminated the need to deposit checks at the bank. A remote deposit machine is one way to achieve this goal. Once set up in a secure area of the medical office, the remote deposit machine allows checks and corresponding deposit slips to be entered into the machine at your office, just as a teller would do at the bank. The remote deposit service provides an electronic receipt and sends the deposited funds into the designated account as if you deposited them at the bank.


Lockbox3

For larger companies with a high volume of paper-based payments every month, Bank of Nevada offers Lockbox service. Once set up, a company's payments go to a P. O. Box. A Bank of Nevada employee collects those payments daily and delivers them to our processing center. From there, checks and deposit slips are sorted and recorded by the machine. Lockbox clients get an electronic validation file providing them with portal access where they can download payment processing information and merge that information into their accounting system. The lockbox service offers an additional security layer by eliminating employee access to payment correspondence and reducing the need to visit the bank. This service also accelerates the availability of deposited funds.

Bank of Nevada's healthcare banking team prides itself on anticipating the needs of those in the medical industry and providing the customized solutions that help businesses succeed. Our highly experienced healthcare team can offer a range of electronic capabilities and 24/7 banking tools that provide new efficiencies and accountability to treasury management practices.

If you would like to learn more about how these services can benefit your business, please contact Walter Hashimoto or Kim MacClafferty at Bank of Nevada at (702) 252-6309.
About Us
Bank of Nevada
Bank of Nevada, a division of Western Alliance Bank, Member FDIC, delivers relationship banking that puts clients at the center of everything. Founded in 1994, Bank of Nevada offers a full spectrum of tailored business banking solutions and outstanding service, with offices in Las Vegas, Henderson, North Las Vegas and Mesquite. As part of $65 billion Western Alliance Bancorporation — ranked #1 top-performing large bank with assets greater than $50 billion in 2021 by both American Banker and Bank Director — Bank of Nevada has the reach, resources and local market expertise that make a difference for customers.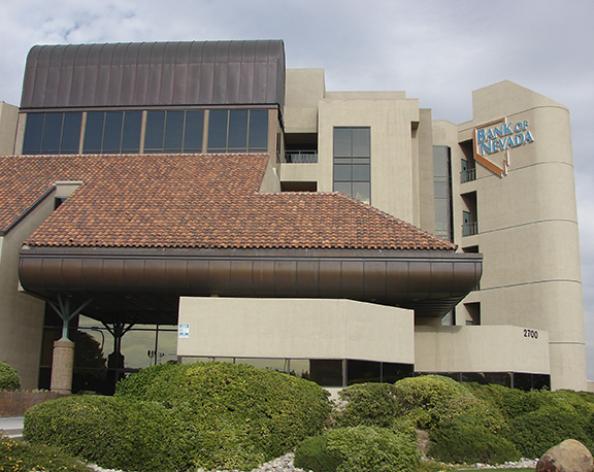 1. Refer to disclosures provided at account opening, the Business Schedule of Fees, and Pro Forma for additional information. Other related fees may apply. All offers of credit are subject to credit approval. ACH collections subject to approval and deposit account requirements. Merchant services are provided by Heartland in agreement with Western Alliance Bank.
2. A Business Checking account required.  Other related fees may apply.  Some products and services may be subject to prior approval or fees. Refer to disclosures provided at account opening, the Business Schedule of Fees, and Pro Forma for additional information. Funds deposited through Remote Deposit Capture will follow Western Alliance Bank's funds availability policy as outlined in the Deposit Account Agreement Disclosure.
3. Funds deposited through the Lockbox will follow Western Alliance Bank's funds availability policy as outlined in the Deposit Account Agreement Disclosure.