Bridge Bank Expands National Focus on Startup Banking
San Jose, Calif.
Bridge Bank today announced it is expanding its national focus on Startup Banking with a key hire, Kelly Caviglia. She joins the Technology Banking group to spearhead the bank's ongoing work with early-stage tech and innovation companies to support their banking needs as they grow.
"Kelly brings tremendous strength to this new role, as Bridge Bank continues its focus on creating relationships with entrepreneurs and their companies as early as possible in their life cycles," said Mike Lederman, senior managing director in Bridge Bank's Technology Banking group. "Her previous experience working with early-stage tech and innovation companies, alongside her deep understanding of the needs of these clients, is a real asset to Bridge Bank as we continue to expand our presence within the technology and innovation sector nationwide."
Caviglia joins Bridge Bank from First Republic Bank in Silicon Valley where she was director of Startup Tech Banking. In addition to developing streamlined processes to meet client needs, her experience also includes building and managing partnerships with venture capital, law and accounting firms as well as enterprise technology companies.
Bridge Bank's Startup Banking offers a rich package that includes a "no fee" deposit account1, plus tools, savings and advice from Bridge Bank and our network of select partners across the tech ecosystem, and other sophisticated banking services, as part of its exclusive Bridge to Growth program available to pre-institutional VC-backed tech and innovation companies. For more details on how to be part of this program for pre-seed and seed stage startups, see https://www.bridgebank.com/startupbanking.
"I am passionate about working with founders of early-stage tech companies and look forward to bringing the skills and insights I've developed to Bridge Bank's Technology Banking group," said Caviglia. "Startups need a bank that knows their sector inside out, understands their pain points and can deliver a world of spot-on resources and connections to help them achieve their goals. What differentiates Bridge Bank for startups is the proven relationship model, so companies grow with the same bankers over time and access the changing resources they need across their life cycles."
A seasoned financial professional with more than a decade of banking experience, Caviglia has worked with many early-stage tech and innovation companies and developed processes and strategies for aligning product offerings with clients' needs. She also has the unique perspective of working at a San Francisco-based tech startup as a former director at Netpulse, Inc. In addition to her most recent position with First Republic Bank, Caviglia also has worked at Silicon Valley Bank. She holds a bachelor's degree from California Polytechnic State University, San Luis Obispo.
Kelly Caviglia can be reached at [email protected].
About Us
Bridge Bank
Bridge Bank, a division of Western Alliance Bank, Member FDIC, delivers relationship banking that puts clients at the center of everything. Founded in 2001 in Silicon Valley, Bridge Bank offers a full spectrum of tailored business banking solutions throughout the Bay Area and has specialized expertise focused on life sciences and technology and innovation companies, at every stage in their life cycle, through its offices in major tech hubs across the country. Bridge Bank also serves the private equity and venture capital communities and provides business escrow services. Bridge Bank is part of Western Alliance Bancorporation, which has more than $65 billion in assets and ranked #1 among top-performing large banks with assets greater than $50 billion in 2021 by both American Banker and Bank Director. As a regional bank with significant national capabilities, Bridge Bank delivers the reach, resources and local market expertise that make a difference for customers.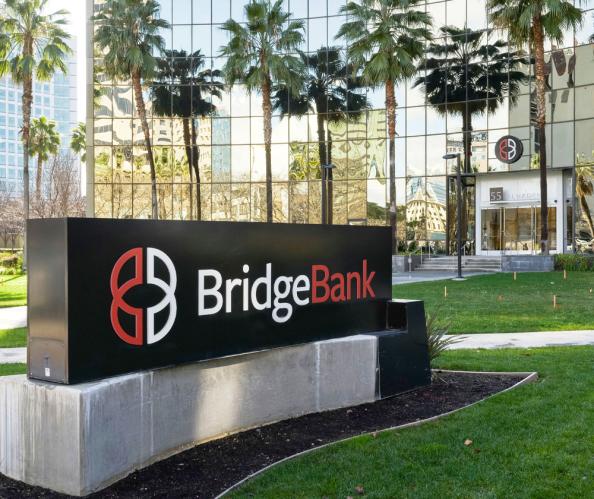 No banking fees for up to 3 years1, with transfers, mobile deposits and incoming ACH.
1. Bridge to Growth is a Bridge Bank Analyzed Business Account for start-up technology and innovation companies, specifically start-ups that are pre-institutional equity rounds of funding. Client eligibility is limited. ECR is not included. Pricing is valid for 3 years after the account has been established, unless institutional funding has been obtained at a threshold determined at the sole discretion of Bridge Bank, after which standard account pricing applies. Pricing structure is not available for extension past 3 years, nor past obtaining institutional funding. Please contact a Treasury Management Advisor and Relationship Manager for additional details that may apply based on products and services selected.