Western Alliance Bancorporation Issues Updated Financial Information
PHOENIX – Western Alliance Bancorporation ("Western Alliance" or the "Bank") (NYSE:  WAL), the holding company for Western Alliance Bank, today issued the following update reaffirming its financial strength as well as its deposit growth guidance in response to recent industry events.
Western Alliance released the following key financial metrics, which reinforce the Bank's strength, soundness, and stability:
Stable Deposits: The Bank has not experienced unusual deposit flows following the sale of First Republic Bank and other recent industry news. Total Deposits were $48.8 billion as of Tuesday, May 2, up from $48.2 billion as of Monday, May 1, and flat to Friday, April 28. Quarter to date, deposits are up $1.2 billion from $47.6 billion as of March 31. Due to normal seasonality within our mortgage warehouse business, mortgage warehouse deposits are lower from April 14 by approximately $700 million, which are rebuilding in a typical fashion and pace. Annual tax payments have also impacted deposit balances quarter-to-date. Therefore, we reaffirm our $2 billion quarter-over-quarter deposit growth rate guidance, as stated on our Q1 2023 earnings call.
Insured Deposit Strength:  As of May 2, in accordance with regulatory requirements, insured deposits represent over 74% of total deposits, including reciprocal, collateralized, and accounts eligible for "pass-through" deposit insurance. Of our 20 largest deposit relationships, over 88% of these deposits are insured. Liquidity coverage of uninsured deposits from on-balance sheet liquidity and available borrowing capacity was approximately 165%.
Balance Sheet Repositioning Actions Remain on Track: The completion of $6 billion of full-year select asset dispositions discussed on our Q1 2023 earnings call remain on track. Of the $3 billion of assets previously identified as contracted to sell, but not closed, $2.1 billion have settled as of today, with the remainder expected to settle in the coming weeks. Asset disposition marks remain within the 2% average mark previously cited.
HFI Loan/Deposit Ratio Improvement:  HFI Loans-to-Deposits were approximately 95% as of May 2 compared to approximately 98% as of March 31. 
Strong Capital Base:  Western Alliance's CET1 ratio was approximately 9.7% as of April 30 compared to 9.4% as of March 31. Our Tangible Common Equity-to-Tangible Assets ratio has increased to approximately 6.7% from 6.5% over the same time period. Acknowledging our capital strength, the Board declared our Q2 2023 common dividend of $0.36 per share on May 2, which is unchanged from Q1 2023.
About Us
Bank of Nevada
Bank of Nevada, a division of Western Alliance Bank, Member FDIC, delivers relationship banking that puts clients at the center of everything. Founded in 1994, Bank of Nevada offers a full spectrum of tailored commercial banking solutions delivered with outstanding service. With offices in Las Vegas, Henderson, North Las Vegas and Mesquite, Bank of Nevada is part of Western Alliance Bancorporation, which has more than $70 billion in assets. Major accolades include being ranked as a top U.S. bank in 2023 by American Banker and Bank Director. As a regional bank with significant national capabilities, Bank of Nevada delivers the reach, resources and local market expertise that make a difference for customers.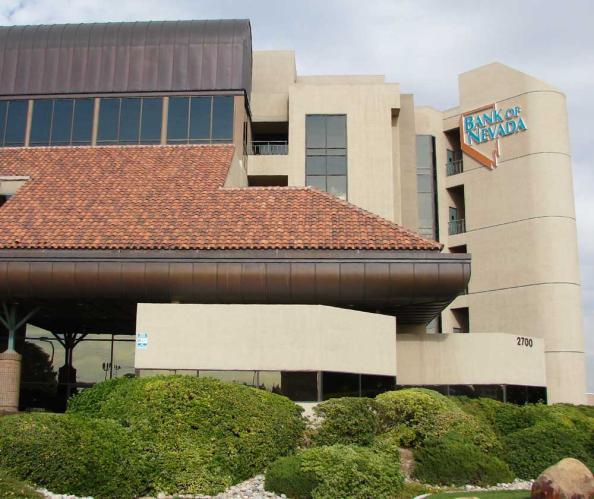 Cautionary Note Regarding Forward-Looking Statements
This release contains forward-looking statements that relate to expectations, beliefs, projections, future plans and strategies, anticipated events or trends and similar expressions concerning matters that are not historical facts. Examples of forward-looking statements include, among others, statements we make regarding our expectations with regard to our business, financial and operating results, including deposit balances, capital ratios and unrealized losses on investment securities, future economic performance, and dividends. The forward-looking statements contained herein reflect our current views about future events and financial performance and are subject to risks, uncertainties, assumptions, and changes in circumstances that may cause our actual results to differ significantly from historical results and those expressed in any forward-looking statement. Some factors that could cause actual results to differ materially from historical or expected results include, among others: the risk factors discussed in the Company's Annual Report on Form 10-K for the year ended December 31, 2022, as filed with the Securities and Exchange Commission; the potential adverse effects of unusual and infrequently occurring events, including bank failures; changes in general economic conditions, either nationally or locally in the areas in which we conduct or will conduct our business; the impact on financial markets from geopolitical conflicts; inflation, interest rate, market and monetary fluctuations; increases in competitive pressures among financial institutions and businesses offering similar products and services; higher defaults on our loan portfolio than we expect; changes in management's estimate of the adequacy of the allowance for credit losses; legislative or regulatory changes or changes in accounting principles, policies or guidelines; supervisory actions by regulatory agencies which may limit our ability to pursue certain growth opportunities, including expansion through acquisitions; additional regulatory requirements resulting from our continued growth; management's estimates and projections of interest  rates and interest rate policy; the execution of our business plan; and other factors affecting the financial services industry generally or the banking industry in particular. Any forward-looking statement made by us in this release is based only on information currently available to us and speaks only as of the date on which it is made. We do not intend and disclaim any duty or obligation to update or revise any industry information or forward-looking statements, whether written or oral, that may be made from time to time, set forth in this press release to reflect new information, future events or otherwise.