Expert Tips for Securing Your First Small Business Loan in Nevada
Congratulations! Like the more than 238,000 other Nevada entrepreneurs out there, according to the U.S. Small Business Administration, you acted on that brilliant small business idea, created a company and now your firm is successfully up and running. As your financing needs grow, you're likely to consider arranging a source of credit. What to do?
As a small business owner seeking to borrow for the first time, consider these valuable tips as you shape plans to grow and expand your company:
Know your credit score and the credit profiles of your business partners. Personal credit profiles are integral to any type of business credit request. Be sure your credit is in good standing and, if you have business partners, have frank and honest conversations with them about their credit status. Your credit profile – and those of your business partners – will be evaluated when you request a small business loan or line of credit.
Be aware that start-ups may find securing a loan challenging. Most banks prefer a business to have been operating for a few years before they'll consider offering a loan. That means start-ups and relatively new businesses typically need to secure loans from sources other than a traditional bank.
The good news is, the economy is trending in your favor. Under the Fair Credit Reporting Act, a consumer reporting agency may not report negative information that is more than seven years old. This means that past credit delinquencies don't permanently impact one's credit score. Like most states, Nevada was hit hard by the Great Recession. But negative credit implications started falling off credit reports in about 2015, again making it easier for small businesses to arrange new credit.
Cash businesses are under a microscope. If your business typically handles cash, be ready to explain where your cash originates and how funds flow. This is becoming a growing area of scrutiny as banks and regulators work to curb money laundering. So be prepared to provide very detailed information about how your money is handled.
Don't be overly aggressive on tax deductions. Many small business owners are tempted to maximize tax deductions for their business to minimize reportable income. However, it's incredibly important to appropriately report your income. That information is ultimately what is used to determine your company's ability to repay a loan.
Consider a business credit card. Business credit cards are an increasingly popular tool for business owners to not only separate business expenses, but also to cover unforeseen business costs that may not warrant a traditional small business loan. Many banks offer commercial credit cards designed to provide a revolving line of credit upon credit approval. Some commercial credit cards offer important features including the ability to streamline payables by acting as a purchasing card.
Depending on your unique business situation you'll likely have other questions besides these, so why not talk with an expert? In addition to small business loans1, Bank of Nevada offers a full suite of services tailored to businesses across Southern Nevada. For more information about how Bank of Nevada can help you grow your business, call us at (702) 248-4200.
About Us
Bank of Nevada
Bank of Nevada, a division of Western Alliance Bank, Member FDIC, delivers relationship banking that puts clients at the center of everything. Founded in 1994, Bank of Nevada offers a full spectrum of tailored commercial banking solutions delivered with outstanding service. With offices in Las Vegas, Henderson, North Las Vegas and Mesquite, Bank of Nevada is part of Western Alliance Bancorporation, which has more than $70 billion in assets. Major accolades include being ranked as a top U.S. bank in 2023 by American Banker and Bank Director. As a regional bank with significant national capabilities, Bank of Nevada delivers the reach, resources and local market expertise that make a difference for customers.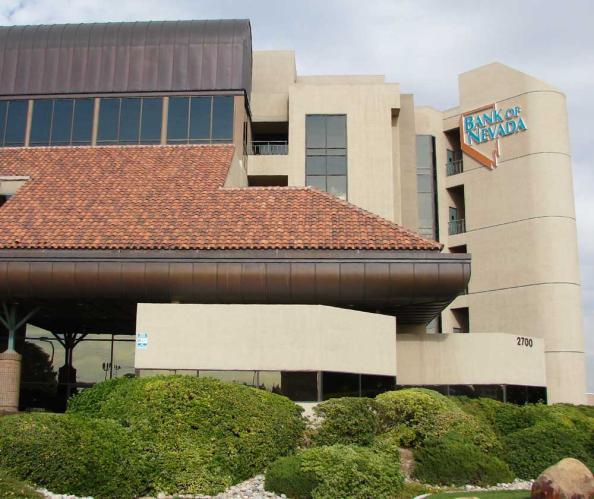 1. All offers of credit are subject to credit approval, satisfactory legal documentation, and regulatory compliance. Borrowers are responsible for any appraisal and environmental fees plus customary closing costs, including title, escrow, documentation fees and may be responsible for any bank fees including bridge loan, construction loan, and packaging fees.