Building Solutions for Businesses
AS Realty Investors has a solid track record of helping healthcare operators find new locations to help meet the growing need for medical services. 

The company, founded in 1994, and operated by Avi Schlesinger and his son Adam, works directly with healthcare partners to place and develop medical office buildings, skilled nursing facilities, nursing homes, acute rehabilitation hospitals, ambulatory surgery centers, and behavioral health hospitals in the Western United States.

For several years, AS Realty Investors has depended on the expertise of the commercial real estate team at Bank of Nevada to finance these new developments. The last four projects, representing nearly 65 million dollars in financing, have all been handled by Bank of Nevada's Senior Commercial Real Estate Lender Dennis Balletto and Executive Vice President Bill Oakley.

Avi Schlesinger says he originally came to Bank of Nevada when another bank backed out of a project.

"When I was looking to finance a hospital project during the recession, a bank that I thought I already had a commitment from backed out of the project," said Avi Schlesinger. "After speaking with Dennis Balletto at Bank of Nevada, I quickly realized he had an intimate knowledge of the property type that we develop. At that point I knew we found a financial institution we could work with, and that was committed to us." he added.

AS Realty Investors handles all aspects of the ground-up development for the healthcare operators it works with. On behalf of its healthcare partners, the company identifies the land for development, hires an architect and then manages all aspects of the construction process.  When complete, the building is turned over to the tenants who have a new location ready for their current and future needs.

"In my business, commitment is vitally important," said Avi.  "I know through my strong relationship with Dennis Balletto, Bill Oakley and Bank of Nevada CEO John Guedry, that they don't make a commitment they can't keep," he said. "I've been in this business a long time and it's refreshing to know I have a bank that I can rely on."

Fast-moving real estate and construction businesses can rely on Bank of Nevada to provide the banking resources and solutions that go beyond what's expected. The in-depth real estate culture and knowledge in this sector, combined with the local approval authority ensure a smooth, timely closing process.

Bank of Nevada solutions for real estate and construction businesses include:

Loans1
The skilled banking professionals at Bank of Nevada offer competitive rates and terms for:
Acquisition and development

Multifamily construction

Commercial construction loans

Term financing (acquisition and/or refinance) for commercial real estate

Asset repositioning of commercial real estate

Sophisticated commercial credit card products

Money Management Tools
Rely on Bank of Nevada for advanced products and services to meet your full range of money management needs - from comprehensive treasury management2 and fraud protection tools to flexible and up-to-the-moment merchant services. Other services include:
Simplify day-to-day banking

Accelerate receivables

Improve payment practices

Monitor and manage cash flow

Streamline credit card acceptance and reporting

Access 24/7 merchant services support

Safeguard resources with tech-forward fraud protection
If your real estate or construction business is looking for a banking resource that is flexible, experienced and provides a high level of personalized relationship management, give the commercial real estate team a call at 702-252-6203.
About Us
Bank of Nevada
Bank of Nevada, a division of Western Alliance Bank, Member FDIC, delivers relationship banking that puts clients at the center of everything. Founded in 1994, Bank of Nevada offers a full spectrum of tailored commercial banking solutions delivered with outstanding service. With offices in Las Vegas, Henderson, North Las Vegas and Mesquite, Bank of Nevada is part of Western Alliance Bancorporation, which has more than $70 billion in assets. Major accolades include being ranked as a top U.S. bank in 2023 by American Banker and Bank Director. As a regional bank with significant national capabilities, Bank of Nevada delivers the reach, resources and local market expertise that make a difference for customers.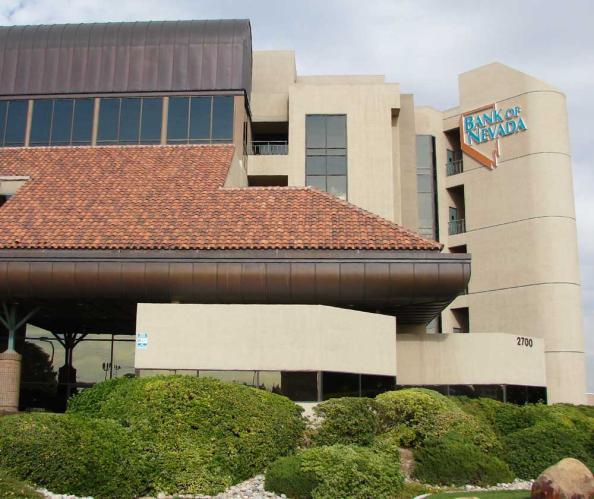 1. All offers of credit are subject to credit approval, satisfactory legal documentation, and regulatory compliance.
2. Some products and services may be subject to prior approval or fees. Please contact a Treasury Management Advisor and Relationship Manager for additional details that may apply based on products and services selected.