Financing That Flexes With Your Clients
When your clients require quick access to funds for planned or unplanned needs, our cloud-based, fully digital securities-based lending solution is there for you. Designed to feature your brand, if desired, this streamlined solution helps you answer clients' needs for funds, typically within 24 to 48 hours.
Benefits to Wealth Managers1
Our turnkey product eliminates the need for your clients to liquidate assets or interrupt your customized investment strategies for them. Not only do their investments with you stay intact, but your clients will experience a simple, streamlined underwriting process, with funds typically available in 24 to 48 hours.
Retain assets under management: Help clients obtain liquidity for discretionary or crisis needs while leaving investment strategies intact.

Protect your client relationship by managing their assets and liabilities: Prevent intrusion by traditional lenders that offer competing services — your clients are your own (we operate completely behind the scenes).

Add value to your relationships: Securities-Based Lending offers an appealing new way to meet clients' often significant cash needs.

Strengthen your recruiting opportunities: Eliminate a barrier to recruiting advisors who wish to move their book of business but have clients whose existing loans must be repaid before assets are released.

Grow revenue through enhanced value: Add income through revenue share opportunities within the Western Alliance Securities-Based Lending program.
Benefits to Your Clients1
Your clients benefit from a financing solution that lets them sustain their financial discipline. A securities-based line of credit empowers them to stay on track with financial goals and retain control over assets pledged as collateral, while avoiding liquidating low-cost-basis securities.
Competitive rates: Offer rates that may be lower than other traditional lending solutions.

Tax-efficient solution2: Clients can avoid taxes on capital gains due to selling highly appreciated securities.

Streamlined approval process: Clients benefit from quick credit approval relative to other lending solutions.

Flexible, liquid option: Easy access to funding eliminates the need to draw down cash reserves. Clients can use the proceeds for a variety of purposes, with flexible terms.

Tech-driven loan management: Our easy-to-use technology lets your clients manage their loan facility however they choose.
Private Banking Solutions1
You and your clients often have financial needs that demand a highly responsive timeline. Beyond Securities-Based Lending, we can work with you to offer your high-net-worth clients a variety of private banking and financing capabilities to help you get business done quickly and efficiently.
Specialized mortgage services: An advantage of working with us is our partnership with our subsidiary, AmeriHome Mortgage, which can offer residential mortgages to complement Securities-Based Lending. Through our integrated business relationship, borrowers may have the opportunity to secure a securities-based line of credit and a mortgage from one bank, and for some, in one underwriting process.

Signature/unsecured lines of credit: Many of your high-net-worth investment clients value the flexibility and convenience of having signature/unsecured lines of credit for a variety of desired purposes. Our expert bankers can structure signature lines of credit with terms that meet your clients' individualized needs and exacting standards.

Commercial banking: Your investment clients may own businesses structured as S-Corps, LLCs, family trusts and limited partnerships. Our significant business banking expertise lets us work with you to offer these clients a wide range of tailored lending solutions, such as commercial real estate loans and working capital lines of credit.
Learn More About AmeriHome
Our Securities-Based Lending Team
Add Our Expertise to Yours
Your clients choose you for your valuable investment expertise. Choose Western Alliance Securities-Based Lending for our longstanding experience in helping registered investment advisors and independent broker-dealers deliver a welcome financing option that also works for you. You'll benefit from teaming up with one relationship banker who helps you do more for your clients.
About Us
Contact Us
Our team has decades of securities-based lending expertise, including leadership roles at some of the most admired firms in the business. That experience combines with expert personalized service to help investment and financial advisory firms do more for your clients. You'll benefit from a dedicated relationship manager and access to senior management to provide a level of service equal to what you offer your own clients.
Get In Touch
First Independent Bank Headquarters
5335 Kietzke Lane
Reno, NV 89511
United States
See All Locations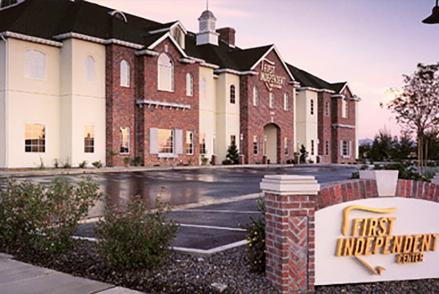 1. All offers of credit are subject to credit approval, satisfactory legal documentation, and regulatory compliance. Borrowers are responsible for any appraisal and environmental fees plus customary closing costs, including title, escrow, documentation fees and may be responsible for any bank fees including bridge loan, construction loan, and packaging fees.
2. Consult your tax advisor.