Why Work with First Independent Bank?
First Independent Bank's merchant services allow you to accept credit cards and debit cards, gain the flexibility to purchase or rent payment processing equipment and avoid hidden costs. These services include:
Multiple authorization networks and transaction processing options.
Experienced and dedicated sales support staff.
Quick and easy electronic application process.
National processing capabilities.
Comprehensive 24/7 online reporting.
Automated Clearing House (ACH) processing and check verification.
Automated in-house chargeback/retrieval processing system.
24/7 merchant services help desk.
Next-day merchant settlement.
Payment Gateway
With this robust payment gateway, you can accept credit cards and signature debit cards through any Internet connection, no matter where you're located. Capabilities include real-time transaction processing, recurring billing with tokenization for both one-time and recurring (automatic and manual) payments and direct swipe via USB with no additional software.
Web-Based Reporting
Manage a user-friendly reporting system and payment processing from any web-enabled PC. It includes comprehensive activity reports that provide access to all payment card transactions. You can also create reports based on the information you need. And you can respond online to chargebacks and retrievals.
Mobile Pay
With mobile pay you will never miss a sale. Accept payments anywhere by running your business from your mobile phone, tablet, laptop, terminal and point of sale system. You can process Visa®, MasterCard®, Discover®, PayPal™, and American Express® cards at the point of sale as well as capture customer trends.
Easy Statement Reconciliation
The statements clearly explain all charges, so there are no hidden fees. You get your choice of a fee tier based on monthly processing volume. And you gain cost flexibility, so you can grow and still maintain low fees.
Robust Security
Heartland Secure™ combines three powerful technologies to provide the industry's highest level of security for your business, backed up by a Breach Warranty.
About Us
Contact Us
Gain access to a dedicated relationship manager who will take time to understand your goals and help you choose the best solutions to reach them. Let's talk about how we can meet your needs.
Get In Touch
First Independent Bank Headquarters
5335 Kietzke Lane
Reno, NV 89511
United States
See All Locations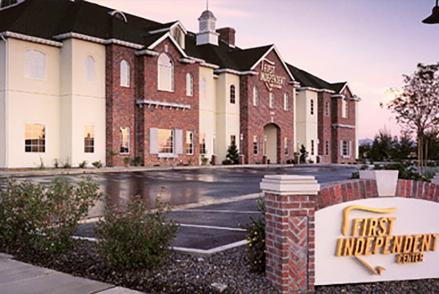 1. Merchant Services are provided by Heartland® in agreement with Western Alliance Bank. Merchants on certain processing programs are not eligible for next-day funding; funding may be delayed by Heartland' Credit or Risk departments at any time. Heartland® is a federally registered service mark of Total System Services, Inc. EMV is a registered trademark or trademark of EMVCo LLC in the United States and other countries. All trademarks contained herein are the sole and exclusive property of their respective owners. Any such use of those marks without the express written permission of their owner is prohibited. Heartland Merchant Solutions is a registered ISO of Wells Fargo Bank, N.A., Concord, CA; Synovus Bank, Columbus, GA, First National Bank of Omaha, Omaha, NE; and Deutsche Bank, New York, NY for Visa and MasterCard transactions only.
Heartland offers NFC enabled POS systems, but a POS upgrade is not necessary to enable merchant service payment processing.