Safeguard Your Business Against Bank Fraud

Tom Hoffman
December 09, 2019
Learn about two tools that will help your business avoid fraud.
The cost of protecting your business from fraudulent financial transactions can be high—and it isn't just measured in dollars and cents. There are other costs as well, from lost time and productivity to a damaged reputation and customer relationships.
Fraud is a worry most businesses share. According to Experian's 2019 Global Identity and Fraud report, more than two-thirds of the world's businesses reported an increased concern about fraud. And in the U.S., 80% of the businesses surveyed for the report saw an increase in online fraud losses between 2017 and 2018.
Yet many business owners don't research or seek fraud prevention services until they've become a victim of fraud. With fraud prevention services1 from Bridge Bank to steps you can take within your own business, there are a number of ways businesses can keep their financial assets more secure.
Fraud Prevention Services
At Bridge Bank, there are a variety of services available to help you be proactive about fraud. Two of our most popular tools are:
ACH Filter. An important part of the fraud suite, our ACH Fraud Filteris designed to safeguard your debit transactions. With it, you can create, maintain and update a list of Electronic Payment Authorizations (EPAs), allowing regular payees to be automatically approved (so your business doesn't get bogged down) while also enabling you to receive alerts on unauthorized transactions. This way you can ensure only approved transactions post to your accounts. The alerts can be set up to occur as frequently—or as rarely—as you like, based on your needs and preferences. Positive Pay.
Positive Pay works to detect potentially fraudulent checking and ACH transactions. With Check Positive Pay, you upload a formatted template of all the checks you issue, and Bridge Bank compares that list against the checks presented for payment. If a check doesn't match up, it's flagged as an exception, and you (or the administrator you designate) will need to provide approval. ACH Positive Pay lets you review exceptions and return unauthorized ACH debits to your account that occur through online banking.
More Tips for Fraud Prevention
What else can your business do to help deter bank fraud? There are various steps Bridge Bank recommends. For example:
Identify your high-risk users such as HR, executives, IT managers, accounts and financial personnel. Review each for what is posted on social media, company websites and in the public domain, especially job duties/descriptions, hierarchal information, and out-of-office details.

Implement appropriate technical controls for your technology. This includes mail filtering, two-factor authentication, complex passwords, patching/updating of all IT and security systems, and more.

Develop critical policies. For example, one policy you'll want to create is a wire transfer policy that documents your established processes.

Write a comprehensive cyber incident response plan. If a breach occurs, what happens next?

Perform security training regularly to keep it top of mind. Employees should know the basics of cyber and email security and be able to identify and deal with phishing attacks.
For more tips on how to safeguard your business from fraud, download this easy-to-follow checklist from Bridge Bank, which covers the important steps your organization needs to take today.
About Us
Bridge Bank
Bridge Bank, a division of Western Alliance Bank, Member FDIC, helps business clients realize their ambitions. Founded in 2001 in Silicon Valley, Bridge Bank offers a better way to bank for small to mid-market businesses across many industries, as well as emerging technology companies and the private equity community. Geared to serving both venture-backed and non-venture-backed companies, Bridge Bank delivers a broad scope of financial solutions, including startup banking, capital, equipment and working capital credit facilities, venture debt, treasury management, asset-based lending, SBA and commercial real estate loans and a full line of international products and services. Based in San Jose, Bridge Bank has 16 offices in major markets across the country, along with Western Alliance Bank's powerful array of specialized financial services. Western Alliance Bank is the primary subsidiary of Phoenix-based Western Alliance Bancorporation, with more than $50 billion in assets. Western Alliance is again #1 best-performing of the 50 largest public U.S. banks in the S&P Global Market Intelligence listing for 2020 and ranks high on the Forbes "Best Banks in America" list year after year.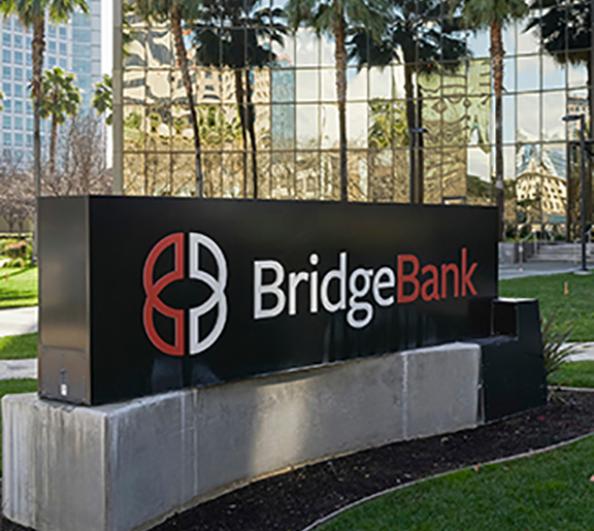 1. Refer to disclosures provided at account opening, the Business Schedule of Fees, and Pro Forma for additional information.