Regional Intelligence Report Series: South Bay Outlook
At Bridge Bank, now more than ever, we are focused on the well-being of our clients and their businesses – the entrepreneurs and disrupters – as they navigate through the unchartered waters ahead. We're proud to present to you a look at local, regional and national trends from leading economists at Beacon Economics.
Below, you'll find an infographic that features key insights specific to the South Bay taken from the 2020 Regional Intelligence Report. Similarly, additional graphics and analysis are available in this series, including:
REGIONAL INTELLIGENCE REPORT: CALIFORNIA
The full report takes a deep dive into the economic landscape and how COVID-19 might shift the economic outlook. We are pleased to offer a complimentary download of the report in its entirety. Simply complete the form for immediate access to learn more about these key findings.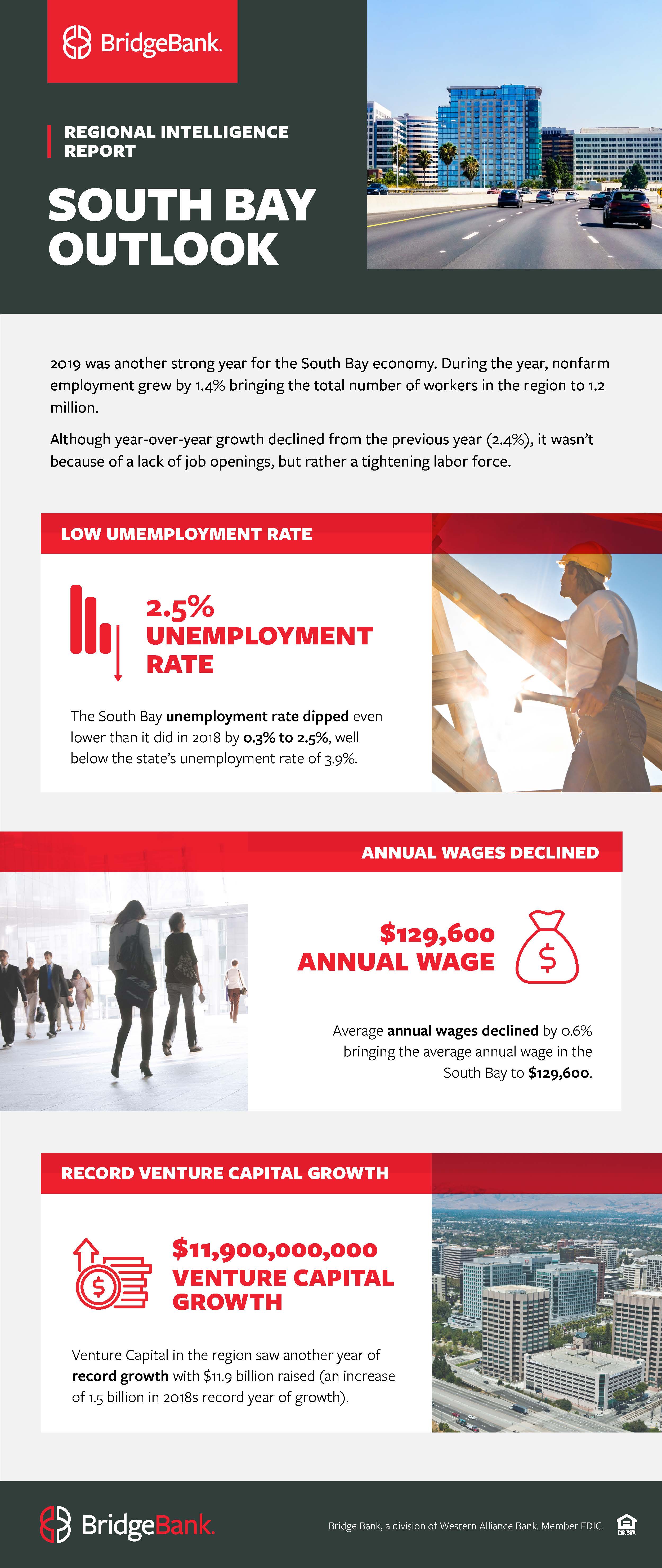 About Us
Bridge Bank
Bridge Bank, a division of Western Alliance Bank, Member FDIC, delivers relationship banking that puts clients at the center of everything. Founded in 2001 in Silicon Valley, Bridge Bank offers a full spectrum of tailored business banking solutions throughout the Bay Area and has specialized expertise, focused on life sciences and technology and innovation companies, at every stage in their life cycle, through its offices in major tech hubs across the country. Bridge Bank also serves the private equity and venture capital communities and provides business escrow services. As part of $65 billion Western Alliance Bancorporation — ranked #1 top-performing large bank with assets greater than $50 billion in 2021 by both American Banker and Bank Director — Bridge Bank has the reach, resources and deep industry knowledge that make a difference for customers.