Regional Intelligence Report Series: South Bay Outlook
At Bridge Bank, now more than ever, we are focused on the well-being of our clients and their businesses – the entrepreneurs and disrupters – as they navigate through the unchartered waters ahead. We're proud to present to you a look at local, regional and national trends from leading economists at Beacon Economics.
Below, you'll find an infographic that features key insights specific to the South Bay taken from the 2020 Regional Intelligence Report. Similarly, additional graphics and analysis are available in this series, including:
REGIONAL INTELLIGENCE REPORT: CALIFORNIA
The full report takes a deep dive into the economic landscape and how COVID-19 might shift the economic outlook. We are pleased to offer a complimentary download of the report in its entirety. Simply complete the form for immediate access to learn more about these key findings.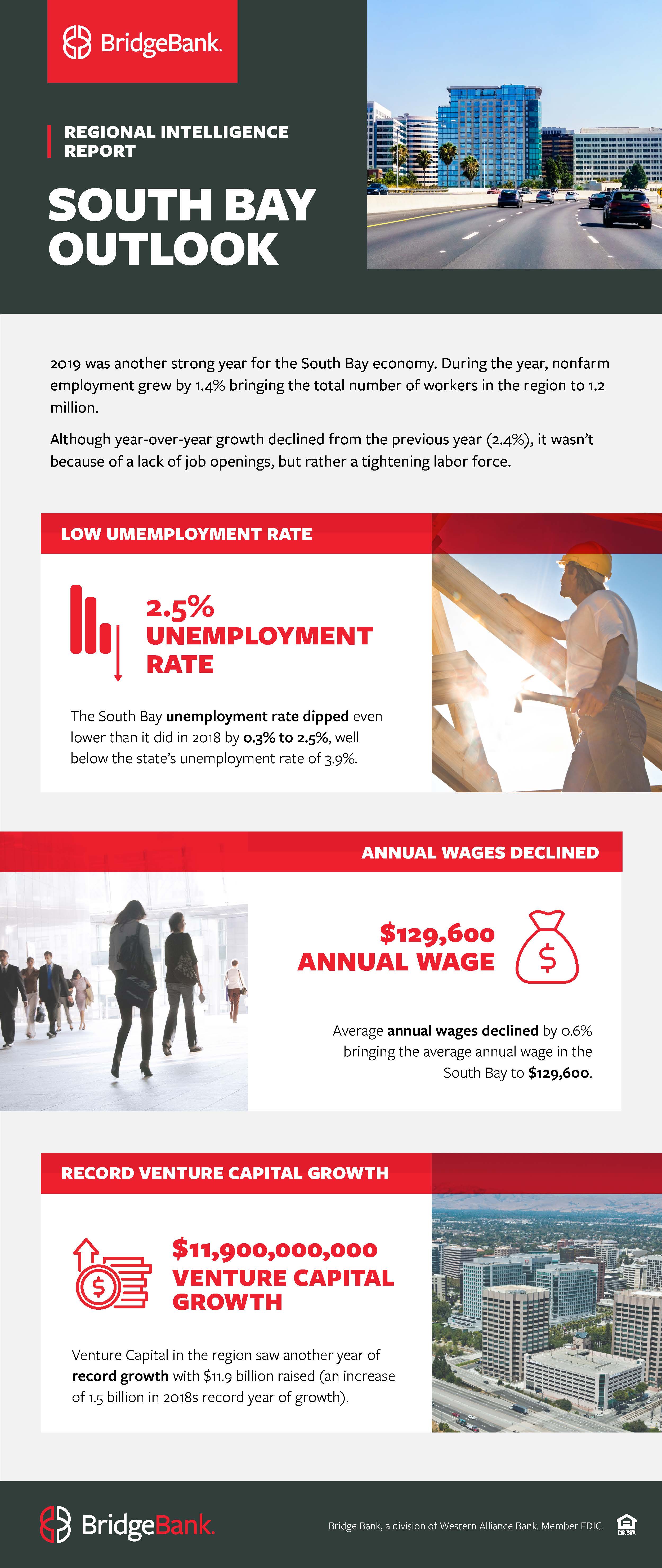 About Us
Bridge Bank
Bridge Bank, a division of Western Alliance Bank, Member FDIC, helps business clients realize their ambitions. Founded in 2001 in Silicon Valley, Bridge Bank offers a better way to bank for small to mid-market businesses across many industries, as well as emerging technology companies and the private equity community. Geared to serving both venture-backed and non-venture-backed companies, Bridge Bank delivers a broad scope of financial solutions, including startup banking, capital, equipment and working capital credit facilities, venture debt, treasury management, asset-based lending, SBA and commercial real estate loans and a full line of international products and services. Based in San Jose, Bridge Bank has 16 offices in major markets across the country, along with Western Alliance Bank's powerful array of specialized financial services. Western Alliance Bank is the primary subsidiary of Phoenix-based Western Alliance Bancorporation, with more than $50 billion in assets. Western Alliance is again #1 best-performing of the 50 largest public U.S. banks in the S&P Global Market Intelligence listing for 2020 and ranks high on the Forbes "Best Banks in America" list year after year.