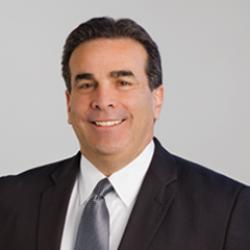 John Guedry is Division CEO of the Bank of Nevada and First Independent Bank, divisions of Western Alliance Bank. Mr. Guedry has 35+ years of experience in financial services and related industries in Nevada.
Prior to joining Bank of Nevada in August 2011, he was President and Chief Executive Officer of Business Bank of Nevada until it was purchased in 2007 by City National Bank, where he remained as Executive Vice President before joining CB Richard Ellis as a Managing Partner.
Mr. Guedry serves as a board and executive committee member of the Las Vegas Metro Chamber, Public Education Foundation, Council for a Better Nevada and the Las Vegas Bowl. He is also a past Chairman of the Nevada Bankers Association and Las Vegas Metro Chamber, as well as a former Board of Trustee for the UNLV Foundation and Las Vegas Global Economic Alliance, among others.  
A native of New Orleans, Mr. Guedry moved to Las Vegas with his family in 1974. He is a graduate of the University of Nevada, Las Vegas, with a Bachelor's degree in Business Management.
About Us
Western Alliance Bank
With more than $66 billion in assets, Western Alliance Bancorporation (NYSE: WAL) is one of the country's top-performing banking companies. Through its primary subsidiary, Western Alliance Bank, Member FDIC, business clients benefit from a full spectrum of tailored banking solutions. Major accolades include #2 best-performing of the 50 largest public U.S. banks in the S&P Global Market Intelligence listing for 2021, and #1 Best Emerging Regional Bank for 2022 by Bank Director. Serving clients across the country, Western Alliance Bank operates individual, full-service banking and financial brands with offices in key markets nationwide.