Business Escrow Services We Offer
We offer end-to-end escrow and a digital paying agent solution for servicing your M&A transactions with optimal speed and transparency. You benefit from our in-depth offerings — all delivered by our experienced relationship managers and responsive customer support team.
Benefits to M&A Acquirers and Their Agents
Track the progress of your transaction instantaneously with our streamlined digital document management and payment system.
Manage M&A transactions simply and efficiently.

Eliminate paper-based document handling.
Sign all documents easily and securely via DocuSign — anytime, anywhere.

Improve transparency.

View all transactions from start to finish on an intuitive digital dashboard.
Monitor document completion progress and download as needed.

Manage payments to option-holders.

Pay all shareholders, including employee option-holders, at closing and post-closing.
Industry-Leading Technology
Simplify and accelerate complex M&A transactions with our sophisticated paying agent solution via one secure, intuitive platform. Bridge Bank Gateway is a single-point information hub that provides buyers, sellers and their attorneys with real-time information on document signing, payment status and more.
Distribute, view and sign transaction paperwork digitally.
Pay shareholders faster.
Monitor transaction status from one secure portal.
Conduct and tally shareholder votes.
Process tax documents quickly and securely.
Manage compensation arrangements for former employees.
Benefits to M&A Sellers
Simplify cumbersome and complex processes.

Eliminate pre-closing printing and mailing of paper-based documents. 
Streamline pre-merger shareholder votes with built-in voting, tallying and reporting functionality.
Access and process relevant tax documents including year-end reports. 

Get paid faster.

Shareholders receive payments within a day or two of closing, rather than weeks.
Easily review payment history and dates of expected next payments.
One-Stop Shop for Escrow Services
Beyond M&A transactions, simplify management and delivery of all client escrow services and get started quickly. We only require Know Your Customer (KYC) information from the depositing entity, and deposits can be accepted the same day your account is opened. Some key features of our business escrow solutions include:
Dedicated team focused solely on business escrow services.

Accelerated turnaround time onboarding new accounts.

Customized and standard template escrow agreements.

Innovative online portal to help manage your escrow accounts.

Streamlined technology platform for accurate and timely disbursements.

Competitive deposit options and fee structure.

Robust activity and disbursement reporting.
Broader Banking Services
To support your added banking needs, we offer a wide range of business banking products and solutions, including credit1, international banking2 and treasury management3, as well as products and services for personal banking. Everything is designed to respond to your needs and timeline.
Professional Expertise & Resources
Our Business Escrow Services Team
Working with our team of experts means you'll have a client-focused relationship manager and the advantages of comprehensive payments and escrow solutions, all within the structure of an award-winning financial institution focused on business.
About Us
Contact Us
Our team of leading professionals has significant industry experience with a presence from coast to coast. As a specialized, trusted resource for leading law firms, investment bankers and corporate finance firms, our in-depth experience combines with expert, personalized service and innovative banking options to meet the needs of clients nationwide.
Get In Touch
Bank of Nevada Headquarters
2700 West Sahara Avenue
Las Vegas, NV 89102
United States
See All Locations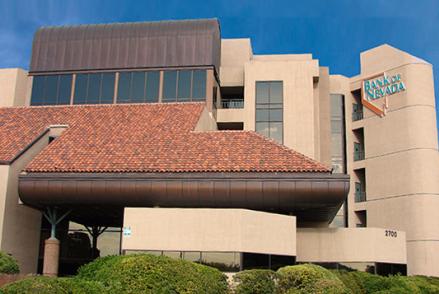 1. All offers of credit are subject to credit approval, satisfactory legal documentation, and regulatory compliance. Borrowers are responsible for any appraisal and environmental fees plus customary closing costs, including title, escrow, documentation fees and may be responsible for any bank fees including bridge loan, construction loan, and packaging fees.
2. Fees may apply. Refer to the disclosures provided at account opening and the Schedule of Fees and Charges for additional information.
3. Some products and services may be subject to prior approval or fees. Please contact a Treasury Management Advisor and Relationship Manager for additional details that may apply based on products and services selected.