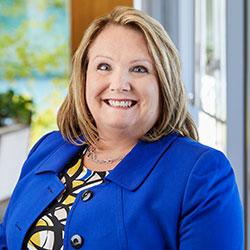 Joanne M. Haluska
, CMCA, AMS
Senior Managing Director
Joanne serves as senior managing director for Alliance Association Bank. She joined the company in 2009, not long after the bank's inception, and currently  provides leadership and guidance to Alliance Association Bank clients throughout the Central region of the United States. Previously, Ms. Haluska managed Alliance Association Bank's East Coast region for five years. 

As a result of her own experience serving as volunteer treasurer of her community board of trustees, Ms. Haluska provides clients with an additional level of community management insight. Her experience as a treasurer convinced her to pursue a career in the association management industry, beginning as a portfolio property manager in Cleveland, Ohio. Combined with her previous background in Human Resource Management, Ms. Haluska offers proactive ideas and forward-thinking strategies to clients which result in greater operational efficiencies. 

Ms. Haluska holds accreditations as both a Certified Manager of Community Associations (CMCA) and Association Management Specialist (AMS). She has also written about issues relevant to the industry and was published in the CAI's Community Association Leaders Magazine. 

Ms. Haluska serves her clients with the same level of superior service that she demanded as a portfolio property manager, and excels at offering her clients helpful solutions in all aspects of community management.
About Us
Alliance Association Bank
Alliance Association Bank, a division of Western Alliance Bank, provides deposit, financing and technology solutions to the growing community management and homeowner association industries with a high level of expertise and responsiveness. This specialized organization offers a wide range of innovative banking products and services designed to create efficiencies, reduce costs and increase revenue. Western Alliance Bank, Member FDIC, is the primary subsidiary of Phoenix-based Western Alliance Bancorporation, with more than $50 billion in assets. Western Alliance is again #1 best-performing of the 50 largest public U.S. banks in the S&P Global Market Intelligence listing for 2020 and ranks high on the Forbes "Best Banks in America" list year after year. Serving clients across the country wherever business happens, Western Alliance Bank operates individually branded, full-service banking and financial services divisions and has offices in key markets nationwide.